Everyone has been hearing a lot about green crabs and their destructive nature these days.  Frenchman Bay definitely has its share of them.  Green crabs are an invasive species from Europe that were unintentionally introduced to the Eastern shores of America in the 1800s. Their numbers have been increasing ever since.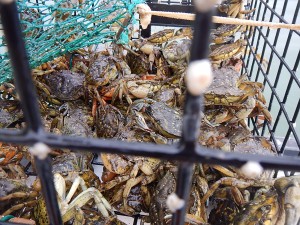 Maine Sea Grant sponsored a Green Crab Summit at University of Maine in December 2013.  Many Frenchman Bay Partners were in attendance.  The presentations provided a lot of detail about green crabs, their life history, and their impacts on shellfish populations and as well as salt marshes and seagrass beds.  They can be viewed at http://www.seagrant.umaine.edu/green-crab-summit. Several Frenchman Bay Partners, including representatives of the Bar Harbor Shellfish Committee, MDI Bio Lab, and Frenchman Bay Regional Shellfish Committee participated in a  one-day, state-wide survey of green crabs last summer, focusing their sampling efforts in Bar Harbor, Lamoine, Trenton, Sorrento and Sullivan.  The results of the survey can be found on the Maine DMR website .  The report concludes that green crabs are present throughout the state and in numbers that represent a detrimental impact to bivalve shellfish.
At the Green Crab Summit, we learned about a second invasion of green crabs that occurred in the 1980s.  These crabs, first introduced in Nova Scotia, are of a more northern European variety, and are more tolerant of our cold Maine winters.  Recent data from Camille Nivison, Larissa Williams, and Will Ambrose from Bates College confirm that the northern European variety has appeared in upper Frenchman Bay https://frenchmanbaypartners.org/population-genetics-of-invasive-green-crab/.
Green crabs are no laughing matter, but O'Chang Comics has done a great job of communicating the extent of the green crab issue in Maine, while providing a little comic relief from all the bad news about green crabs.  Check out the video by Atom O'Chang a lifelong Mainer, born and raised in the Midcoast area, at http://www.youtube.com/watch?v=5Rcy71DSBus.
So, what are we doing to address the issue on FrenchmanBay?  Shellfish harvesters in FrenchmanBay are seeking markets for green crabs, but in the meantime, will be eradicating them from the clam flats this summer.  MDI Bio Lab will be taking measures to protect eelgrass transplants in upper FrenchmanBay by constructing temporary fencing around restored eelgrass and trapping and composting green crabs from restoration areas.